George Routledge and Co., London
George Routledge started his publishing firm in 1843. In 1851, Frederick Warne became a partner with his brother-in-law G. Routledge. The firm then became Routledge and Co. The firm's name changed in 1858 to reflect Routledge's son's entry into partnership. The new publishing house was Routledge, Warne and Routledge. In 1865 Warne left to form his own company and the old firm was renamed George Routledge and Sons.

This house published two sets of Jacob Abbott books.

Franconia Stories (6 x 4)

Between 1854 and 1858 Geoge Routledge and Co. published:
Madeline
Wallace
Beechnut
Mary Bell
Mary Erskine
in its multivolume Juvenile One Shilling Volumes Series.

Starting in 1858 and up to 1865 these five books were printed by Routledge, Warne and Routledge. George Routledge and sons reprinted these books between 1865 and 1880. Stuveysant was added in 1873.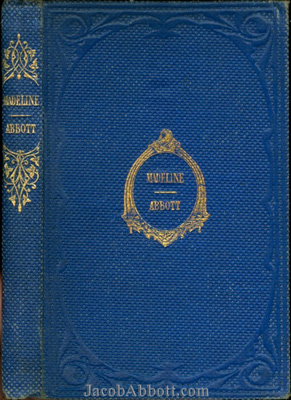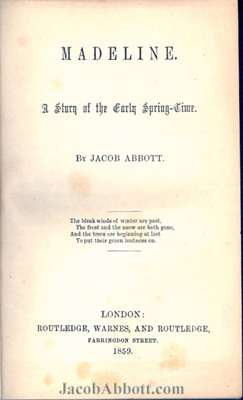 The Madeline book was originally titled Malleville when first published by Harper and Brothers.


August Stories
-August and Elvie
-Hunter and Tom
-Schooner Mary Ann
-Granville Valley

These books were reprinted by George Routledge and Sons starting in 1880 and were published until approximately 1888. At first they were separately printed as the August Stories. Later they were part of the "Three shilling and six penny series".